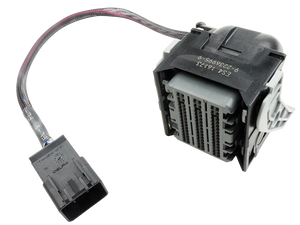 Leadtime: Available Immediately, but the dress cover is backordered. It's aesthetic and non-crucial for programming function. It will ship separately, once we manufacture them. 
Note: Dress covers for this connector are no longer available. We manufacture these in house.

VEHICLE DETAILS
MAKES: 
Ford
MODELS: 
F-Series Super Duty
YEARS: 
2020-2021
ENGINES: 
6.7L
MODULE: 
Engine Module
USAGE: 
2020-2021 F-Series 6.7L Diesel
ALIASES: 
 MD1CP006 Power Stroke
|  SUPPORTED COMMUNICATION PROTOCOL(S)  |  DLC PIN(S)  |
| --- | --- |
|  CAN BUS  |  16 WAY OBD-II DLC PINS 6 & 14  |
POWERBLOCK CONNECTION
For communication on OBD-II DLC pins 6, 13, and 14, this harness requires Ford Pass-Thru Harness to connect to PowerBlock. Ford Pass-Thru Harness sold separately.