PowerBlock™ - Vehicle Wiring. Simplified.
BenchForce™ PowerBlock is the central hub for powering up an ECU on the bench. PowerBlock is a circuit board solution that simplifies a vehicle's wiring into one simple CNC machined billet aluminum enclosure.
Through the use of add-on harnesses, PowerBlock can handle just about any bench programming - especially OBD-II and J1939 applications. Connect your USB or serial laptop-to-vehicle programming interface to PowerBlock's OBD-II diagnostic connector and then choose from the growing selection of BenchForce ECU harnesses.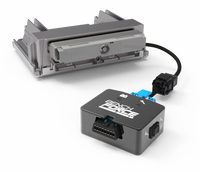 PowerBlock™ on the Bench
ECU > ECU Harness > Pass-Through > PowerBlock
Several simple steps and you'll be ready to connect your programming interface tool to PowerBlock's OBD-II diagnostic connector.
J1939 9-Pin Diagnostic Connector Support
J1939 programming tool support is available with the use of our OBD-II 16-pin DLC to J1939 9-pin DLC harness. ECUs that support both OBD-II and J1939 need only change the pass-through harness for dual protocol compatibility!
PowerBlock's OBD-II 16-pin DLC follows industry standards. J1939 9-pin DLC has no standard. It is important to verify proper 9-pin DLC pin layout to ensure compatibility with your programming interface tool.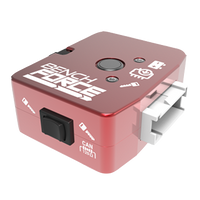 PowerBlock™ IV - ROM Boot Support
To provide for the Cummins ECU ROM boot feature, we added a momentary switch to the face of the PowerBlock II, anodized the housing red, and called it PowerBlock IV.
PowerBlock IV supports OBD-II and is best-suited for J1939 because of its included ROM boot switch for Cummins ECUs.
"Am I missing something?"
We've made BenchForce shopping easy! Simply choose one of our two available BenchForce Starter Kits, one or more ECU Harnesses you need for the ECUs you're working with, and then verify that your programming interface device has an OBD-II or J1939 9-pin diagnostic link connection.
If you can connect to a vehicle, then you can connect to PowerBlock.