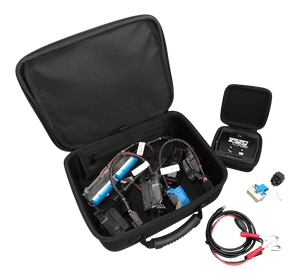 Here is our LS-Series benchtop programming starter kit. We have what you need to move an OBD-II port from the vehicle to the bench. 
This kit includes:
The following LS-Series Engine ECU Harnesses are Included:Sold separately (recommended but not required):
BF00017 Power Supply - AC to DC 5 AMP
PowerBlock is compatible with all of our ECU programming harnesses for OBD-II and J1939 applications. Please contact us with any questions before purchasing. The unit itself does not program anything, it has no logic inside. It is a circuit board-based passthrough to allow bench programming outside of a vehicle.