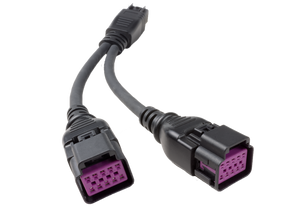 This Y-splitter harness is for use when powering more than one ECU at a time on the bench. Simply connect each ECU programming harness into the 10 cavity female connectors. The single 10 cavity male connector mates to any of our OBD-II and J1939 pass-through harnesses.

Also for use when adding external 120 Ω CAN termination. 120 Ω CAN termination harness sold separately.

To power more than two ECUs on the benchtop, an additional Y-Splitter harness is required.